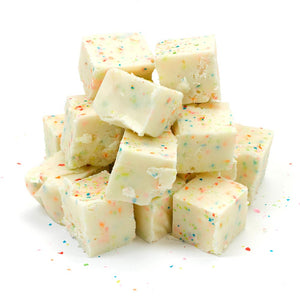 Make someone's birthday fun and festive with birthday cake fudge! This white chocolate fudge with the flavor of birthday cake includes colorful funfetti. A fun way to celebrate a birthday, or just enjoy even when it isn't!
Available in a set of 3 - 8oz. clear clamshell containers.
BIRTHDAY CAKE FUDGE FYI
The perfect gift will delight anyone who loves fudge, especially on their birthday. The fudge, which comes in a specialty gift box, will impress the person you're celebrating. But the taste is so irresistible that you could serve it as a surprise treat just about any time (glitter and all).