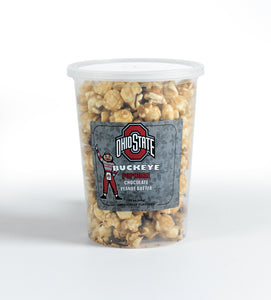 Be the best game day host with our savory Buckeye Toffee Popcorn. We've made our Toffee Popcorn even more delicious by drizzling chocolate and peanut butter on top. Who wouldn't want this treat for OSU game day?!

Available as a set of six 4.5 oz each air-tight tubs packed together in a box.
BUCKEYE CHOCOLATE PEANUT BUTTER POPCORN– FYI
No matter where you live, you can enjoy Buckeye Chocolate Peanut Butter Popcorn. Enjoy the great taste and crunch. As your cheers reach the sky, grab a fist full of popcorn to add some sticky sweetness to your Buckeye battle cry. No tailgate will be complete without this toffee popcorn, drizzled with chocolate and peanut butter.