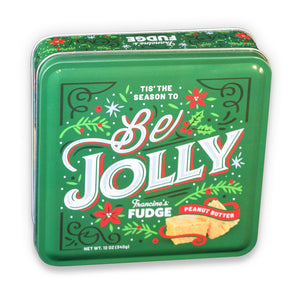 Gift our creamy peanut butter fudge to your friends and family in a 12oz. green, metal, "Be Jolly" tin.
Ingredients
Peanut Butter (dry roasted peanuts, dextrose, hydrogenated cottonseed and rapeseed oil and salt), Sugar, Brown Sugar, Milk (milk, vitamin D3 added), Crème Whip (corn syrup, sugar, water, tapioca starch, egg whites, salt, artificial flavor, cellulose gum, tartaric acid), Butter (cream, salt), Water, Invert Syrup, Artificial Flavor (Caramel Color), Potassium Sorbate, Salt
Allergy Information: Contains Egg, Milk, and Peanuts. Made on equipment that processes Soy, Wheat, and Tree Nuts.
Peanut Butter fudge-Threw it away
This was the worst fudge I ever tasted. I can pretty much eat anything, but not this. I threw this away. Had a horrible bitter taste. I'm embarrassed because I'd bought two. I gave one away to a neighbor but never had an opportunity to give away the other one so I thought I'd open it. Yuck.